Michigan Moms…Become a Stylist for $99! #WAHM #AffiliateLink
This post may contain affiliate links. This means that when you click a link and make a purchase, a percentage goes towards our blog. More details in disclosure above. Thank you for your support.
Calling all Michigan moms! Do you love fashion and accessories and eager to work from home with your very own business? Stella & Dot has recently launched a NEW stylist sign-up special!
New stylists who join in October will receive an additional $150 worth of bestsellers, totaling $500! To further incentivize Stylist sign-ups, all starter kits from 10/3-10/31 will be available for a down payment of as little as $99! The remaining balance of $100 for the starter kit will be waived when a Stylist sells $1,000 in her first 30 days.
Upon signing up you will receive a personal website, training, and support. No worries, no experience is needed! You can potentially earn 25-35% commission and get paid weekly! If this sounds like something you would love to do, feel free to check it out and sign up!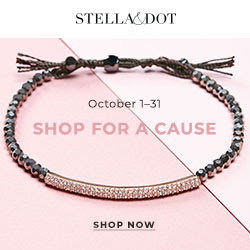 Additionally, in honor of Breast Cancer awareness month, Stella & Dot is donating 20% of the retail purchase price of eligible sales of the Tribute Bracelet to Bright Pink, a non-profit organization focused on prevention and early detection of breast and ovarian cancer in young women. For more info, visit Visit BrightPink.org