The 10 Coolest Avengers Toys for Your Child This Christmas
Image by Vinson Tan ( 楊 祖 武 ) from Pixabay
With cinemas up and running again, it is no surprise that the Marvel Cinematic Universe is more popular than ever. 
With the release of Black Widow, Eternals, Venom: Let There be Carnage, and many more blockbuster hits, the team at SlotsUp have done some digging to give you the best 10 Avengers toys on the market this Christmas.
As part of the Most Successful Superheroes Campaign, the following list will break down the toys with the coolest features, best value for money, and any exciting add-ons, allowing you to become the super-festive parent you were destined to be. 
First up, we have a timeless classic: Lego. Suitable for children of seven years or older, the moveable figurine depicts Captain America in all his glory, brandishing his iconic shield. 
Perfect for children prone to losing interest in their toys easily, as the 121-piece figure requires the determination and patience of Captain America himself.
Costing a very reasonable $10.00, the miniature Lego figure won't break the bank, while its cardboard packaging avoids any unnecessary plastic waste. 
For fans of more sensory-orientated toys, make way for the super-squishy, glow-in-the-dark Incredible Hulk.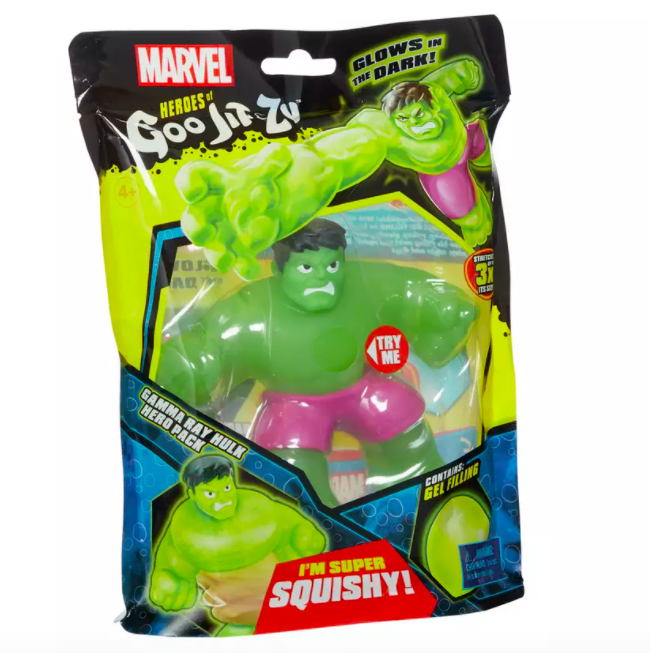 Joining the Goo Jit Zu family has allowed Hulk to become more powerful than ever: equipped with the ability to stretch to three times its original length, the toy is perfect for keeping your little one occupied until at least New Year's Eve.
Created for children four years and above, Hulk is finished with a malleable gel filling, allowing him to withstand any child that comes his way. 

If your little Marvel fan is on the younger end of the scale, a soft plush Incredible Hulk toy could be the perfect gift for them this Christmas.
Silky-soft material makes the toy ideal for cuddling, while an embroidered, angry face also makes the plushie perfect for imitating the fiery Avenger. 
Suitable for all ages, Hulk is the ultimate first Avenger toy for any future fan.
Suitable for children aged four and over, the powerful action figure allows your little one to step straight into the excitement of the Avengers: Endgame movie. 
Set their imaginations free with Captain Marvel, who comes equipped with posable limbs and accessories for your kids to create their own storylines. 
Perfect for parents shopping for Avengers gifts on a budget, as the dynamic heroine is on sale for an impressive $14.99.
The Avengers art kit allows your child to combine their creativity with their love of superheroes, for only $29.99.
The 98-piece set includes pencils, marker pens, pastels, brushes, paper, stencils of their favorite heroes, and much more, along with a handy travel case. 
Perfect for children aged four and above, the art kit offers hours of imaginative fun, along with a pull-out drawer to sketch and paint on all surfaces. 
Harness the power of the gods with Thor's hammer. Equipped with a padded head, the hammer won't cause any genuine damage – but will provide hours of fun nonetheless. 
The intricately decorated hammer is guaranteed to have your little one feeling as though they have stepped right onto Asgard on Christmas morning.
Finished with a super-soft plush effect, the toy, priced at $19.99, is the perfect gift for smaller Avengers fans. 
Wakanda Forever! Unleash your inner Black Panther with the light-up mask. Only suitable for children aged three and above, the mask utilizes light effects and vibrations to mimic iconic moments from the feature film. 
A selection of settings puts the power entirely into your child's hands, along with choosing whether the special blue eye lenses are flipped up or down. 
Ideal for the child that loves to dress up and lose themselves in their own imagination, all for the very reasonable price of $42.20. 
Does your little one want to feel like a superhero and learn how to tell the time? If so, the Spiderman watch from Amazon could be the answer. 
With great time-telling power comes great responsibility, which is why the watch is equipped with scratch-resistant glass to keep it in a new condition. 
The clever watch features 10 different changing faces and three wallpapers, along with a camera to capture their superhero adventures. Finished with a recorder, calculator and games, the Spiderman watch is small but very powerful. 
Give the gift of the entire universe with the Infinity Gauntlet, for just $20.99. Perfect for kids aged five and older, the toy features lights and sounds inspired by the movie, allowing your child to be transported straight to the Marvel Cinematic Universe. 
Pressing the Infinity Stone is destined to make your little one feel like Thanos himself – so which side will they choose this Christmas: good or evil?
Drive smoothly into Boxing Day with the Marvel superheroes and their matching motorbikes. For $49.30 you get Iron Man, Black Panther, and Spiderman, along with their super-cool vehicles. 
The miniature figures easily attach to the motorcycles, making these toys ideal for learning how to share and play with groups. 
Perfect for children aged three and over, the figurines can also be moved and molded to replicate their favorite superhero poses. With five different characters to collect, the pack of three bundle is a great place to begin. 
Article and photo credits:  https://www.slotsup.com/blog/the-most-successful-superheroes